Free download with coupon AB29Q ends on Tuesday!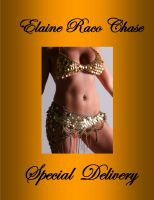 Sexy romantic comedy at its best! Enjoy a plot and dialogue that will leave you breathless with laughter and a sensual love story that will leave you just plain breathless!
After filling in to deliver a belly-gram for an injured employee, Roxanne Murdoch finds herself stranded with newly appointed bank vice-president Bram Tyler during a violent blizzard for three days.
As the temperature drops outside, the sexual tension heats up inside. Enjoy verbal sparring at it's best and a sensual romance that will make your turn on the air conditioning.
Roxanne and Bram are the only two characters in site - except of course for Aunt Mathilda!
Get your
free copy
now!
Parental Rating:
This book contains content that may not be suitable for young readers 17 and under.
Follow this blog to keep up with Authors updates.
Patti Roberts - Supporting Authors.

Thank you for dropping by, please leave a comment and say Hi.

Paradox - The Angels Are Here.
Book trailer Youtube - http://www.youtube.com/watch?v=IovcxyZTFuU
facebook - http://tinyurl.com/3woe84l
twitter - http://twitter.com/#!/PattiRoberts7
blog - http://theangelsarehere.wordpress.com/